Portfolio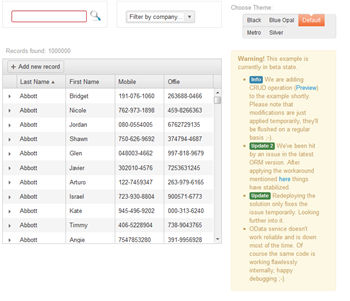 Open Access ORM
HTML5 application with 1 million records, read/write enabled.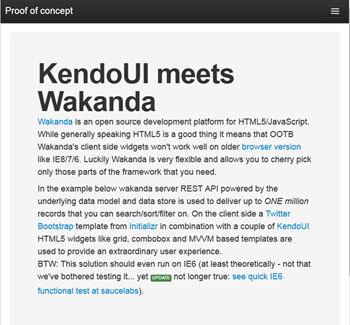 Wakanda
Leaveraging Wakanda's server features like NoSQL data store and its ability to produce OData allows us to combine it with KendoUI on the client side.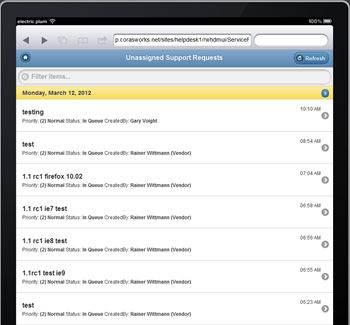 SharePoint 2010 and CorasWorks
Mobile optimized HTML5 application based on a custom build in house Help Desk system. SharePoint 2010 acts as OData producer.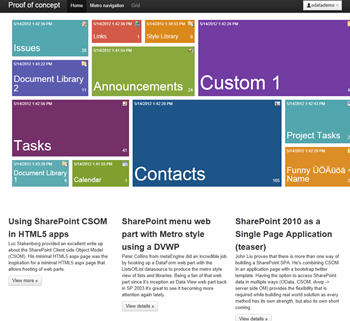 "Metro-esque styled" SharePoint 2010 navigation
Single page application mixing together HTML5, SharePoint 2010 REST, "Metro-esqued" styled navigation and KendoUI to provide a new way to access SharePoint data.
Services
Architecture
There's a trend in modern web applications to transfer more and more functionality that was traditionally running on the server to the client. Goal of that movement is the building of faster and more responsive web applications.
Further advantage of HTLM5 web apps is that mobile specific functionality like geolocation, camera etc. can easily be accessed by using service offering like phonegap that let you convert them into native apps.
Whenever appropriate Spirit is using standard transport protocols like OData when it comes to server client communication in order to abstract various platforms. This minimize costs of client side application building.
Server: It's all about OData
SharePoint 2010 is an OData producer, so if you are running on Sharepoint this will allow us to leverage it immediately. If you're not on SharePoint there are various options to store your data e.g. in SQL, NoSQL on premise or in the cloud.
Leveraging SharePoint 2010, Wakanda or Telerik's OpenAccess as OData producer allows Spirit to build web applications using a common protocol regardless of the underlying infrastructure.
Client: HTML5/CSS/JavaScript
Knowing your options and choosing the right tools for the job is key while building high performance web applications. jQuery as the de-facto standard for DOM manipulation and backbone.js, a small MVC library, providing the solid base. KendoUI as UI-Framework and/or jQuery Mobile are leveraged as further building blocks.